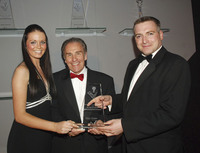 Date: 16 October 2007
The company responsible for the construction element of Project Omega has received industry recognition at the highly prestigious annual Construction Excellence Federation/Specify 'Construction Excellence Awards' ceremony, held at the Culloden Hotel.
Delivered by joint venture companyGlen Water, which is made up of Laing O'Rourke and Thames Water, the £122m Private Partnership (PPP) project includes the construction of a new Wastewater Treatment Works (WWTW) in Donaghadee and new pumping stations at Briggs Rock, Groomsport and Donaghadee.
A number of existing Wastewater Treatment Works in the Craigavon, Armagh and Richhill area are also being upgraded in addition to a new pipeline between Seagoe and Ballynacor WWTW's. 
The company collected two awards in the competition's much sought-after 'Health and Safety' and 'Environmental Sustainability' categories beating off  tough competition from a dozen of Northern Ireland's top construction companies.
"We were delighted to be named as the recipient of these two awards in a hotly contested competition which attracts a large number of high calibre entries from across Northern Ireland, said Peter Dew Project Leader, Laing O'Rourke. 
Commenting on the Health and Safety award he continued, "We pride ourselves on our ability to set and maintain the highest safety standards and operate a 'Hazard Identification' scheme on all of the Project's construction sites, where employees are actively encouraged to report anything which might result in an accident."
Upon completion in December this year, the new WWTW in Donaghadee will prevent raw, untreated sewage from being pumped directly into the sea and will significantly improve the quality of local bathing water in the surrounding area.
Extensively landscaped the facility will be partially enclosed within a 'green roof' to ensure that it is in complete sympathy with the surrounding landform and that the impact on the local environment is minimised.
Commenting on the Environmental Sustainability Award Jim Conlon, General Manager, Glen Watersaid, "At every stage of this project we have pro-actively taken all measures possible to ensure that the building work has had minimal impact on the environment and that our construction techniques are as ecologically friendly as they can be."
The company's commitment to environmental working practices was further recognised at Sustainable Ireland's recent 'Energy, Environmental and Waste Management' awards ceremony in the Ramada Hotel where Glen Water was selected as a finalist in the 'Environmental Project of the Year' category.
Photo Caption:
Pictured (l-r) Ms Northern Ireland and Geoff Graham from Lockton Companies International Ltd present Peter Dew, Project Manager Laing O'Rourke (centre) with two awards at the CEF/Specify 'Construction Excellence Awards' 2007.