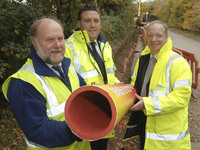 Date: 26 October 2007
Glen Water, a joint venture company between Thames Water and Laing O'Rourke, has entered into a mutually beneficial partnership with firmus energy, the new provider of natural gas in Northern Ireland, to co-ordinate pipe-laying in the Seagoe area.
Appointed by Northern Ireland Water to deliver its £122m Omega Project, Glen Water is carrying out the work as part of the upgrade to sewage services in the Craigavon area.  The scheme includes the laying of a new pipeline between Ballynacor Wastewater Treatment Works and Seagoe Waste Water Treatment Works. 
firmus energy has been extending its natural gas network throughout the Lurgan, Craigavon and Portadown areas.  One of the roads in which firmus energy was laying the new gas main, was on the same route that Glen Water have planned to use to lay the sewage pipes on. As both companies are concerned with what impact their actions have on the local community, Glen Water approached firmus energy to co-ordinate the laying of both the gas and the sewage pipes to ensure that disruption to the community was kept to a minimum.
"As part of our commitment to be a good neighbour Glen Water operates under a 'Code of Considerate Practice' which means that all work we do is carried out with consideration to the needs of residents, traders and businesses," said Glen Water General Manager, Jim Conlon. 
Therefore wherever possible, Glen Water co-ordinates with other companies and contractors working in an area to minimise disruption to the local businesses and communities," he continued.
"We were delighted when Glen Water approached us with the potential to co-ordinate the pipe-laying element of our scheme," said Mark Prentice, general manager of firmus energy.  "I am pleased that on this occasion we have been able to take a collaborative approach to ensure that all work carried out will be conducted as efficiently as possible with minimal impact on the local area."
It is anticipated that the work will be completed by the end of October.
Photo Caption:
Pictured (l-r) are George Shilladay, Road Service; Mark Prentice, firmus gas, general manager and Jim Conlon, General Manager, Glen Water.